"We used to play this place in St. Louis called the Moonlight Lounge. I remember the first time we went down there. We pulled up at the hotel and all these prostitutes on the corner started shouting 'Muddy Waters Band is here!' And they'd hike-up their dresses. I remember at the gig Muddy played 'I Just Want To Make Love To You' and I had this chromatic solo. I dropped to my knees still playin', and this woman yelled-out from the audience, 'Don't stop now baby! My drawers are wet!"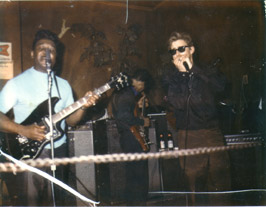 Muddy Waters And Paul Oscher 
Miss Herbs Moonlight Lounge 
St. Louis, Missouri 1968
Muddy would mesmerize the audience like a preacher. He'd walk all over the club singing and people'd shout 'I hear you brother!' '....Tell the truth!' Tell it like it is. I loved those shows. After the gig, we came back to the hotel. You entered the hotel through a barbecue joint and then in the back there was a bar and a piano. Spann would play the piano all night. We would shoot dice and hang out with the girls. You had people sitting in like Albert King. It was just a great time. I had a great time."