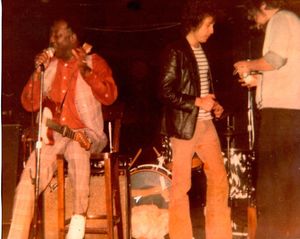 Muddy Waters, Bob Dylan and Paul Oscher 
At the Bottom Line in NYC in 1975
Photo:  Willard Strandberg Jr.

There is an interesting story behind it - I was playing the week long gig with Muddy as a piano player because Pinetop had broken his wrist. We were on a break. Muddy's manager Scott Cameron came into the dressing room and told Muddy "There's a real heavyweight in the house and he wants to sit in on the harmonica, his name is Bob Dylan." So we went back up and Muddy sang a few then he called me up to play a harmonica instrumental.  When I finished Dylan walked on the stage and this photo is me handing him a harp and Muddy is introducing him, "Ladies and Gentlemen, I want you to put your hands together for a great harp blower he's one of the best, JOHN Dylan." There was minimal applause then guitarist Bob Margolin whispered to Muddy "Its Bob Dylan not John." Then Muddy corrected himself, "I'm sorry Ladies and gentlemen this is BOB DYLAN", and the audience went wild. That was the same night that Muddy introduced Sugar Blue as Powder Blue.